Amazing Pencil Drawing Of Sarkodie By Theopencil
pencil drawings Amazing Pencil Drawing Of Sarkodie By Theopencil
Amazing Pencil Drawing Of Sarkodie By Theopencil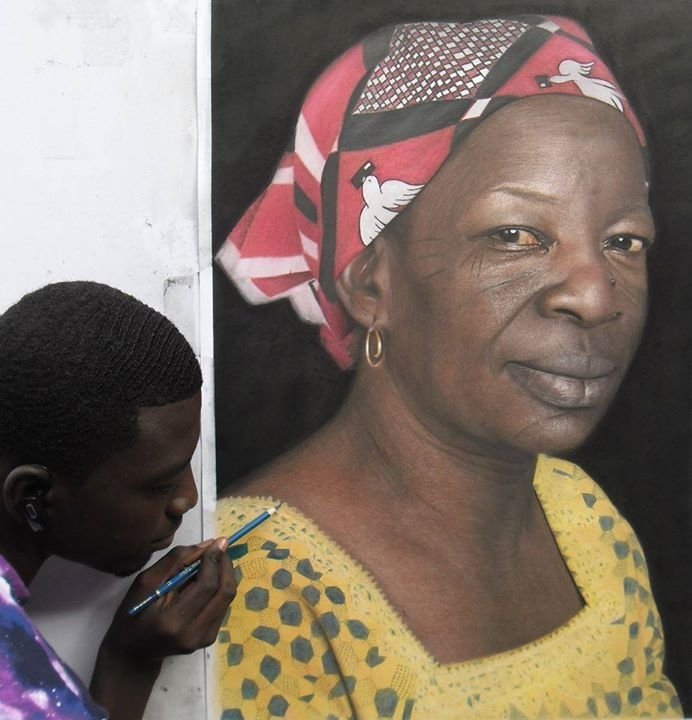 A post shared by Theo_Pencil (@theo_pencil) on Aug 4, 2017 at 12:11pm PDT
Theopencil advanced as a hyper-realistic pencil artist at the early age of seventeen. His area of specialization in the arts industry is mostly working on human figures. He is good in color works but most of his masterpieces are in pencil which inspires him a lot.
Twitter may be over capacity or experiencing a momentary hiccup. Try again or visit Twitter Status for more information.
A post shared by Theo_Pencil (@theo_pencil) on Nov 3, 2017 at 11:13am PDT
Check out some of his work and tell us whether it is a hit or nah?
A post shared by Theo_Pencil (@theo_pencil) on Nov 28, 2017 at 6:18am PST
A post shared by Theo_Pencil (@theo_pencil) on Nov 30, 2017 at 4:39am PST
Thanks. Twitter will use this to make your timeline better. Undo
Theopencil is always drawing and it would be a great delight that the next pencil artwork would be yours.
Please kindly WhatsApp #TheoPencil for the Package +233543457132
A post shared by Theo_Pencil (@theo_pencil) on Mar 15, 2017 at 11:12am PDT
Theopencil is a young talented Ghanaian artist born on the 5th day of May 1993 and lives in Accra, Ghana.
A post shared by Theo_Pencil (@theo_pencil) on Jan 13, 2017 at 10:48am PST
TheoPencil at work #universeofartists#worldofpencils#hyperrealism#portrait#worldofartists#dailyartistiq#artfido#yesladypheonix#ghanaian_artists#creative.empire#ghfashionmarketing#art_sanity#artselect#justartspiration#art_help#artshelp#artistuniversity#arts.hub#art__explorer#artistic_unity_#arrtposts#art.academy#blvart#artistic.support#art.ig#art_collective#arts_secret#art_worldly
He gained his nickname, TheoPencil from his friends because of the magic he performs with just a pencil.
With no formal education in artwork, his works have been viewed across the world with amazement and wonder. He discovered his talent as an artist at the age of eight when he used to draw cartoons just for fun. The realism of his drawing has captivated many people.
At the age of 21, Theopencil has made realistic pencil portraits of some famous personalities including Kofi Annan – Former United Nations Secretary General, Nelson Mandela – Former South African President, Niki Minaj – A popular American Music Artist, Jerry John Rawlings and John Agyekum Kufuor – Former Presidents of the Republic of Ghana, Jackie Appiah – A popular Ghanaian Actress, Nana Akufo Addo – 2012 Presidential Candidate for the New Patriotic Party, Barack Obama – President of the United State of America and John Dramani Mahama – President of the Republic of Ghana and others.
He's currently working on a pencil art for Sarkodie for winning an award during the 4Syte MVAs and will be presented to him in due course.
Pencil drawing in progress#[email protected]#world#cars#art#hyperrealism#worldofartists#ghanabraids#hair#hairstyles#amazing#unbelievable#best#drawing#painting#artistsoninstagram#diamondring#gold#creative#ghanaian#ghanaianartist#nails#celebrity#starwars#starbucks#star#beautiful #handsome#creativempire#pen#peoplescreatives
Pencil drawing on paper in progress….#universeofartists#worldofpencils#hyperrealism#portrait#worldofartists#dailyartistiq#artfido#yesladypheonix#ghanaian_artists#creative.empire#ghfashionmarketing#art_sanity#artselect#justartspiration#art_help#artshelp#artistuniversity#arts.hub#art__explorer#artistic_unity_#arrtposts#art.academy#blvart#artistic.support#art.ig#art_collective#arts_secret#art_worldly
Speak your mind! Join the OMGVoice Community Join OMGVoice Community