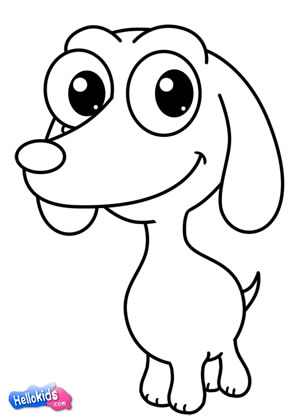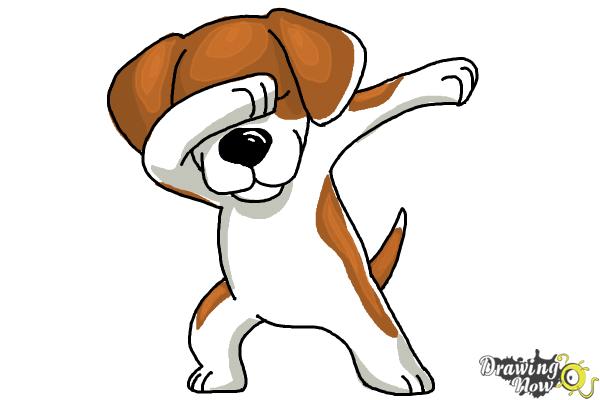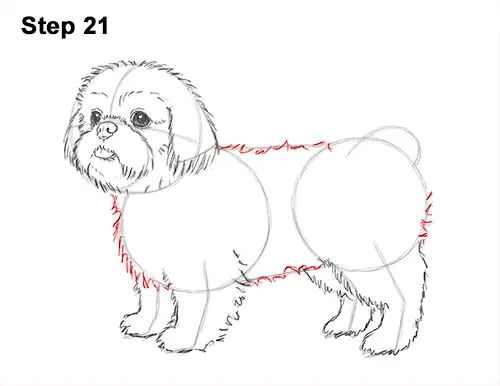 Scores of children's animated films feature canine characters in the lead roles. Among the most notable are The Fox and the Hound (1981), Lady and the Tramp (1955), Oliver and Company (1988), One Hundred and One Dalmatians (1961), Balto (1995), All Dogs Go to Heaven (1989), Bolt (2008), and The Secret Life of Pets (2016). Numberless other stories have cast canines in supporting roles.
Dogs have been a part of human society for thousands of years. Dogs were domesticated from wolves, and as such are related also to jackals, wild dogs, dingoes, and foxes. Dogs have been employed throughout history, not only as pets, but also as hunters, protectors, shepherds, and as a means of transportation.
Emojis are everywhere, from text messages and emails to pillows and pool floats. Now, you can draw your own dog face emoji, using this simple tutorial. Note that new lines are shown in red and previous lines in blue, while guide lines fade to grey. See the drawing tutorial.
In this video tutorial, the artist has chosen six radically different dog breeds. He aims to "break down the geometry of the dog" into simple shapes. Using this technique, and practicing with the tutorials presented, will equip you with the skills to draw any dog breed you wish.
This white dog with a lightning pattern in his fur is the title character of the film Bolt (2008). Follow the simple steps of this tutorial, noting that new lines are highlighted in red. See the drawing tutorial.
This simple, step-by-step illustrated drawing tutorial is by far one of the easiest you'll encounter. This guide is a good starting point for budding artists seeking instruction on drawing a faithful friend. A corresponding video tutorial is also available. See the drawing tutorial.
This video tutorial will walk you through the steps of drawing a simple dog guarding a large heart shape. This drawing will make a great addition to greeting cards for the ones you love.
In this video tutorial, you will learn to draw an adorable dog face using simple lines and shapes. The large eyes give this pup character.
Great Danes are the largest of the domestic dogs. Some are so tall that their head is level with a person's shoulder. Draw this massive dog using this tutorial. See the drawing tutorial.
Tom and Jerry's games of cat and mouse often involved canine characters, too. Draw Spike, the tough bulldog. See the drawing tutorial.
Domestic dogs display more diversity than any other animal species. There are at least three hundred and thirty-nine dog breeds currently in existence, in addition to more than thirty wild canine species. They range in height from a mere six inches to over six feet. The smallest dogs can recline in a teacup even as adults, while the largest weigh hundreds of pounds. Dogs can learn hundreds of verbal and non-verbal commands, ranking them among the smartest animals in the world.
Would you like to draw you very own dog? Whether you would like to sketch a cute cartoon or draw a caricature of your own pet, we have got the drawing tutorials for you.
In this collection of five easy, step-by-step tutorials, you will learn five different methods of drawing a dog. First, you can draw a sitting cartoon dog. The next tutorial covers a sitting hound dog – when shaded, he resembles a Doberman. Then, you can draw a standing cartoon dog, a traditional dog, and a realistic Doberman dog. See the drawing tutorial.
This brief video tutorial will show you how to outline a dog using numbers. You will first write the number 553 twice on a piece of paper. Then, you will extend one line between each set of numbers, combining them into a single squiggly line. Add a few details such as an eye and a collar, and your dog is complete.
Lady, the pampered cocker spaniel, and the street wise Tramp, may be two of Disney's most beloved canine characters (Lady and the Tramp, 1955). Famous for sharing a plate of spaghetti to the tune of "That's Amore," Lady and the Tramp are now easy to draw. This "speed drawing" video tutorial can be slowed to 0.25 in the settings tab in order to follow along at a leisurely pace.
This simple drawing tutorial consists of only four steps. You will combine ovals, circles, and a number of lines to form the head of this easy to draw canine. See the drawing tutorial.
This simple, step-by-step drawing tutorial involves only five steps, adding lines and shapes to the large circle that comprises the dog's head. See the drawing tutorial.
Some of the tutorials also teach shading techniques. Furthermore, dogs come in a variety of colors – ranging from black, white, and brown to shades of orange, gold, and grayish blue – so you may also want to use crayons, colored pencils, markers, or paints to complete your drawing.
In this video tutorial, a professional cartoonist demonstrates how to draw the head of a springer spaniel. This tutorial produces a more detailed drawing that some of the others, and is therefore a great way to expand your drawing skills.
When there's a mystery to solve, Scooby Doo is the dog for the job. This famous Great Dane has starred in television cartoons, animated films, and live action movies since 1969. In this video drawing tutorial, you will receive step-by-step guidance in drawing Scooby using simple lines and shapes. Be sure to have some Scooby Snacks ready!
Courage is the not-so-brave star of Cartoon Network's Courage the Cowardly Dog. Don't be afraid – he's easy to draw with this tutorial. See the drawing tutorial.
Wolves are large canines, heavier than most other dogs and possessing larger feet. Wolves, in fact, are the ancestors of domestic dogs, having been domesticated thousands of years ago. Learn to draw a realistic wolf using this easy, step-by-step guide, along with the instructional video. See the drawing tutorial.
This easy tutorial will teach you to draw the canine character Max from the animated film The Secret Life of Pets (2016). Interestingly, each line that you draw is actually a letter or a number. Follow along with the artist as he turns his paper this way and that in order to draw the numbers and letters at the correct angle.
Jack Russell Terriers are small, spotted dogs. This tutorial uses a marker, so the erasing of guide lines will not be necessary. The artist also shares facts about the Jack Russell Terrier. For example, did you know that this high energy dog was bred in England for the purpose of hunting foxes?
During the Middle Ages and the Renaissance era, hunting scenes – which included dogs in pursuit of their quarry – were popular subjects for paintings. During the 1700s, wealthy British families often purchased painted portraits of there canine companions. Perhaps the most famous canine themed art is the series of sixteen oil paintings called Dogs Playing Poker, begun in 1894 by artist Cassius Marcellus Coolidge.
Mickey Mouse's friend Goofy is an anthropomorphic canine who wears a bone shaped hat. You can draw him using this easy to follow tutorial. In the words of Goofy: "Oh, garsh!" See the drawing tutorial.
This cartoon dog is cute and ready to play! In addition to a step-by-step, illustrated tutorial, a video tutorial is also available. See the drawing tutorial.
All you will need for many of these easy, step-by-step tutorials is a piece of paper and a pencil, pen, or marker. Some tutorials use guide lines – lines sketched lightly but erased before the drawing is completed. For these tutorials, use a pencil with a good quality eraser.
This tutorial utilizes a traditional method of drawing faces, and adapts it to drawing a dog. You will begin by drawing a circle crossed by two parallel lines, which will serve as guide lines as you draw the Chihuahua's face. This smallest of dogs will make a cute addition to your dog drawing portfolio.
In this video tutorial, you will begin by writing a capital D and lowercase o and g. Follow along with the artist as she connects the letters using simple lines. Soon, you will have a unique and easy dog drawing.
Since dogs have long been a part of our culture, it is no wonder that they have often appeared in our art as well. Figures of dogs have been observed in early cave paintings, dated to 4500 B.C. Dogs feature prominently as guards in ancient mythologies, including Greek, Norse, Persian, Philippine, Chinese, and Hindu mythologies. These canines are often depicted alongside gods and goddesses.
We name them Lassie, Rover, Fido, and Spot. They've been called man's best friend. They were likely among the first animals to be domesticated. They are the most widely distributed and abundant carnivore on earth. What animal fits this description? None other than the dog.
This video tutorial utilizes both an adult artist and a child following along, step by step. This tutorial is done using markers, so erasing guide lines is not necessary. Also included is an easy guide to shading your finished drawing.
Puppies are cute, and this husky puppy is no exception. This simple, step-by-step video gives the dog big, watery eyes. The picture is completed with a tundra background – snow and evergreen trees – depicting this sled dog's place of origin.
This tutorial breaks down a portrait of a howling wolf into simple shapes and lines. When completed, your wolf can remain a line drawing, or you can copy the shading techniques for a more detailed picture. See the drawing tutorial.
This video tutorial takes a unique look at drawing the dog Jake from Cartoon Network's animated series, Adventure Time. Throughout the tutorial, you will be encouraged to look around your environment to find shapes with which to draw the character. For example, Jake's body is shaped roughly like a computer mouse. "Who knew he had all that inside him?"
While similar to the previous tutorial, this video shows another way of turning a word into a drawing. Begin by writing the lowercase letters d, o, and g on your paper. Then, follow along as the artist connects the lines and adds embellishments. This d-o-g is a bit fancier than the last.
Dogs have infiltrated the modern mythology of popular culture as well. The collie named Lassie and the German shepherd Rin Tin Tin were the stars of books, movies, and television series during the early days of film. Huckleberry Hound was a popular comic book character.
Large, watery eyes add cuteness to the specific style of art used in Japanese anime and manga. This dog is anthropomorphic – he stands on two legs, like a human.
Mattel's Barbie fashion dolls have been a hit with girls of all ages since 1959. Often, Barbie is given a furry friend. In this step-by-step drawing tutorial, you will learn to draw not only Barbie's Daschund, with his blonde companion at his side. See the drawing tutorial.
Short on time? If so, this is the video tutorial for you. Using simple lines, you will craft a sad-faced, droopy-eared dog in a matter of minutes.
Saint Bernards were often pictured as rescuers in early cartoons, carrying supplies to people lost in snowy mountain ranges. Draw your own Saint Bernard using this step-by-step tutorial. See the drawing tutorial.
This cute cartoon wolf is depicted in a classic pose – that wolfish archetype of howling at the moon. Draw your wolf using the illustrated step-by-step guide or the instructional video.. See the drawing tutorial.
Minecraft is a popular video game in which participants sculpt characters and worlds from blocks of various elements mined from the game world's ground. Even the animals in this fictional world consist of multicolored cubes. This video tutorial will help you draw a Minecraft dog or wolf, using rectangles, squares, and straight lines.
This artist specializes in caricature drawing, and this style can be seen in this canine drawing video tutorial.
Home Crafts For Kids Winter Spring Summer Crafts Fall Valentines Day St. Patrick Easter Mothers Day Halloween Crafts Ideas Toddlers Kindergarten Christmas Paper Plate Crafts How to Make Corner Bookmarks + Ideas and Designs Animal Crafts for Kids Printables How to Draw Tutorials Coloring Pages About Members
Below, you will find a collection of the best dog drawing guides available on the internet. Learn to draw sitting dogs, standing dogs, cute dogs, silly dogs, and a number of dog breeds and cartoon characters.
This cute kid's drawing tutorial depicts a mother fox with her tail wrapped about her baby. Young foxes are known as kits. See the drawing tutorial.
The title character from the film Balto (1995) was a hybrid, half wolf and half dog. He was based on a true story of a fearless sled dog team who saved the children of a small Alaskan village by delivering vital medicine. Now, you can draw this canine hero. See the drawing tutorial.
This dog is ready for the hunt! This video tutorial primarily uses just one line to for the shape of a standing dog in profile. Additional details are added to the line as the tutorial progresses. This video is fast paced, so feel free to slow the video speed in the settings tab.
Designed with kids in mind, this video tutorial shows how to draw a happy cartoon dog, step-by-step.
Snoopy is perhaps one of the most famous dogs around. Charlie Brown's beagle first appeared in the Peanuts comic strip in 1950. Now you can draw him, too. See the drawing tutorial.
Spike is a brown dog belonging to the Pickles' family on Nickelodeon's hit cartoon series, Rugrats (1990-2006). Spike was often involved in the adventures of the babies Tommy, Chuckie, Phil, and Lill. In this step-by-step tutorial, you will learn to draw Spike looking surprised – as he often was by the babies' antics. See the drawing tutorial.
Have you ever dreamed of running wild with a pack of wolves? Now you can draw yourself there! This step-by-step tutorial will teach you to draw a person playing with a pack of wolves. Using this guide, you can draw yourself with one wolf, or surround yourself with all five. See the drawing tutorial.
Labrador retrievers, or labs, are among the most popular dogs kept as pets. These energetic dogs were bred to retrieve items from the water – thus the name retriever. This simple video tutorial will aid you in drawing a realistic Labrador retriever. Labs often come in three color forms – black, yellow, and chocolate brown – so don't forget to shade your finished drawing.
Pluto has been the faithful companion of Mickey Mouse and friends for nearly one hundred years. You can draw this yellow dog using this simple tutorial. See the drawing tutorial.
The clue-hunting dog Blue starred in one of Nick Jr.'s biggest children's' entertainment hits of the 1990's. Now, you can draw Blue. This easy tutorial will provide your with plenty of helpful clues along the way. See the drawing tutorial.
Slinky the dog is a combination Dachshund and slinky toy from the film Toy Story (1995). Now, you can go on adventures with Woody's pal, Slink. See the drawing tutorial.
African wild dogs, also called painted wolves, are a unique dog species that hunts in packs of up to forty individuals. Their splotchy brown, black, and white coloring makes them stand out among both wild and domestic dog breeds. Use this tutorial to craft your very own wild dog. See the drawing tutorial.
Did you know that foxes are also a type of wild dog? Foxes are known for their sly intelligence. They are adaptable, even living in cities when their natural habitat is scarce. Because of their solitary nature, you will seldom glimpse this elusive creature. You can keep one nearby, however, with this easy, step-by-step drawing tutorial and the accompanying video. See the drawing tutorial.
In this tutorial from Crayola, you will explore how the dog's anatomy can be depicted using simple shapes. Beginning with circles for the head, shoulders, and hips, you will connect the shapes using lines to form a realistically proportioned dog. See the drawing tutorial.
Use contrasting concepts, One particular drawing technique Healy makes use of in her work will be to use contrasting aspects within a piece involving work, for instance, juxtaposing beauty and ugliness. I will use the beauty associated with colours, flowers, the soft qualities of skin or curly hair , as well as the female form. Items also tend to make use of something option opposite to be able to all of that, for example bones, insects, sharp pearly whites , or anything that may well provide discomfort to typically the viewer, she elaborates. `Somehow this provides a fascinating principle to a piece. In particular when the `ugly` parts very much harder to spot in first. To me it is a very stark representation involving what life is such as
Beyond that will , different artists have distinct approaches to lines instructions you need to discover the style that`s best suited for you. I favor to use a specific outline in my art , be it using thin sets out or bold outlines, ` says Healy. It could help pinpoint the audience`s eye to a specific area. Additionally, it gives the stylised look, if of which is what you are usually hoping to achieve. Chiu, however, prefers a distinct approach. I try in order to avoid outlining my sketches because this tends to be able to make things look level and deadens the THREE DIMENSIONAL effect. Breaks and areas in my lines demonstrate form in the lighting and shadows.
Mix up covering techniques, There are a lot of different pencil attracting techniques relating to shade providing . Chiu uses two major approaches. The first is definitely with all the traces going in the identical direction. `This makes my personal shading appear more natural, and helps my information pop out from the particular lines I`m using intended for shading, he explains. The particular second method involves functioning in patches of covering , to help define form . Patches of lines circumvent the form, which support keep things in point of view , he says. It is in addition great for backgrounds and even creating texture.
Categorise your own fabric, Von Reuden clarifies how one can add value in addition to shading to create more layers of depth and even weight. He admits of which , when drawing and re-creating fabric, the types involving wrinkles created can most be placed under a few separate categories: hanging/relaxed, stretched/tension, and scrunched/compressed. Hanging textile tends to be unfastened and have a streaming appearance. Stretched fabric makes long lines, usually along with a point of help . Compressed fabrics bunch straight into each other, creating scrunched-looking areas.
Try combining pencils using watercolour, While pencils upon their own may be used to generate a wealth of various effects, it can get interesting to combine associated with other media. For illustration , in her work, Healy loves to combine watercolour plus coloured pencils. It`s essential to get started with watercolour and even then layer coloured pencils on top, she points out , because pencils can make a waxy surface of which repels liquid, and inhibits the watercolour from putting into the paper. This particular is a fun strategy to try out, your woman says. Both mediums have got unique qualities and smoothness . Combining the two components produces a medium all regarding its own.
Short on time? That above, from character custom made Bobby Chiu, runs by way of some pencil drawing connected with action. For considerably more in-depth the way to composition to be able to how to capture light source and shadow, have a look at our own art techniques article. Or even , for inspiration, check out this specific roundup of unbelievably practical pencil drawings.
Make use of the appropriate grip, The first phase is always to master how to be able to hold a pencil appropriately . Chiu recommends holding the particular pencil as you could a new piece of charcoal, and even taking advantage of typically the side of the business lead to draw, rather compared to the point. This allows maintain the pencil sharper with regard to longer. When covering big areas, I shade using my pencil perpendicular in order to the line I`m sketching to get wide, very soft lines, he adds. Intended for details, I hold our pencil parallel to our lines to get razor-sharp , narrow marks. The sole time I use the particular thing is when I`m working on intricate particulars
Find the right papers texture, The surface structure you`re working on may make a big big difference towards the effects you could create. It is referred to be able to as the grain or even `tooth` of the document . A rough tooth is usually more visible, and typically the ridges will grip the particular colour from your pencils. Which has a smooth tooth, the particular ridges are very excellent , and there`s less grasp . Healy finds this sort of paper provides the easier surface for blending together coloured pencils, although the girl warns that it`s in addition easy to perform the coloring off the surface.
Draw on your personal experiences, Dip into the experiences to add an unique layer of authenticity in your piece, suggests Healy. Therefore using something like the memory, feeling or fragrance when making your work. Intended for example, the special experience you experienced when sitting down down with a buddy at the coffee shop, or even a memory of the child years experience. You can become abstract or use hyperrealism. What you may choose makes the particular piece unique to an individual . I`ve found that folks resonate with these bits the most.
Touch up your skills with these types of pencil drawing techniques, with regard to both graphite and colored pencils. These pencil attracting techniques from top musicians will assist you to take your painting skills one stage even more , whether you`re using graphite pencil or coloured pencils. For many artists, pen drawing is the expertise that introduced them to be able to the art world, in addition to even if you`ve advanced to a different moderate , understanding how to bring with a pencil can easily help you increase your abilities elsewhere. These pencil attracting techniques cover many methods from typically the basics of mark-making to be able to advanced processes to drive you out of your current comfort zone. We`ll also provide advice on the resources and materials you will need to know, such because blending stumps, paper choices , and different erasers. When you`re a total starter , or just want in order to upgrade your kit, consider a look at the guide to the most effective pencils.
Master mixing , Healy has a certain process for blending the girl coloured pencil work. The girl depends on an put together , to check the kind is proper before carrying out to coloured pencil (it`s much harder to clear off coloured-in areas than the outline). It also assists her plan where typically the highlights and shadows may fall. She then develops up colour using simple layers. I love to be able to start out with very soft gentle layers to get a better notion of light placement, shadows as well as the color palette, she says. Right after each layer she combines gently using the mixing stump. Once she provides reached a stage she`s happy with, she actions on to the last step: adding an description . For this final level , Healy uses coloured pencils alone, and does not really blend with a stump.
Unify your shades , Having an uniform strategy to colour can help provide cohesiveness to your function . It`s a good thought to make sure that will your artwork has unifying colours, says Healy. `This consists of a certain colour palette, mood plus a way of spreading these kinds of throughout the entire art item . In addition, she recommends creating a harmonious basic by using tinted papers or adding a backdrop wash of colour (in paint). This will demonstrate through whatever you put together on top of that , thus giving it a good appearance of cohesion. Whenever I use coloured pencils, I`m fond of making use of tinted paper produced by simply Kraft.
Know if you should prevent , The majority of designers tend to tinker with their very own work - even following they`ve signed their label . I can always get something to change when I look hard more than enough , so it can become difficult to share with when the piece is truly completed , says Chiu. However, be suspicious of overworking your part . `Eventually, I make the conscious decision to set my drawing away plus start something new, this individual continues. `That`s when I actually consider my drawing carried out
Consider different approaches to traces , Another drawing technique worries line weight. As properly as demarcating different items , lines can help stress shadows. Thicker lines can easily fade and disappear in the shadows, which can aid convey the 3D kind , explains Chiu.
Begin lightly and build through there, After i start getting , I plan and check out using loose lines, plus avoid committing ahead of time using hard, dark lines, claims Chiu. As I advance my lines will transform , so checking and rechecking my work is important . I darken my ranges and add details from the end. I do not concentrate on one area regarding too long to avoid overdrawing. Begin with an underdrawing, Artist Tim von Reuden likes to start together with a digital underdrawing that will he prints at one particular per cent Opacity. Over , you can view the underdrawing regarding his sketch of a new woman holding a staff members . He explains, I like to keep it gentle so that it provides a foundation rather than the final image.
Rescue their life from your comfort zone, Whilst these pencil drawing methods should help you realize the essentials from the moderate , sometimes you need to be able to toss the rules out there of the window and locate what works for an individual . There`s nothing wrong along with stepping outside of the particular box if it indicates achieving the effect an individual want, says Healy. Learning from your errors will occur when a person step outside of that will box. But don`t end up being intimidated! The process is usually entirely fun.
Utilize right eraser, There happen to be a few various kinds of eraser, and each is matched to various things. You`ll definitely need a kneaded eraser. This has the putty-like consistency (it`s occasionally known as putty eraser), and you knead that before and after make use of . A kneaded eraser is definitely best for lightly selecting up the coloured pad binding off the papers . This works wonders whenever correcting mistakes, or in case you`re deliberately lifting coloring from an area including the eyes, says Healy. Some sort of gum eraser has some sort of more solid consistency, in addition to is better if you`re trying to fully remove a coloured-in area. Des Reuden continues: I firmly believe in letting gut instinct take over in typically the creation process so I actually work with the underdrawing more as a guide . This implies the final outcome varies.
Use a stump with regard to soft blending, How an individual blend your work can easily have a big influence on the final result. Regarding a soft blended result , try a blending stump. After each light level , I very gently combine the coloured pencils together with the stump, says US-based artist Jennifer Healy. May push too hard or even the colour will adhere , making it harder in order to softly blend. I duplicate this process as usually web site need. After a lot of layers it produces some sort of very soft and sensitive look. This technique needs a little trial and problem , though. Healy warns of which if you blend as well softly, the stump may pick up colour that will you`ve already layered within the paper.
Create textile , Fabric can range through sleek and shiny in order to matte and dull. Exactly how you shade it can help sell the concept of the information you`re striving to depict. In this draw , von Reuden is intending in order to capture the golden folds over of material found within the original image. This individual began by outlining typically the shapes and blocking out and about aspects of shadow.
Check and recheck, Before you begin more powerful lines and detail function , it`s essential to ensure you have the correct kind down. Chiu`s advice will be to check and examine again. I must nail lower my drawing`s underpinnings ahead of I can add particulars . I really avoid estimating on the details: I would like to make sure every thing is symmetrical and appear right before writing better and harder lines. This individual also suggests considering your own work in a reflection or through a digicam . Considering different vantage factors is a great solution to highlight if anything will be crooked. I constantly question myself, does this think right? If anything looks off - even when I can`t immediately place my finger on which this is #NAME? believe in my gut and troubleshoot my drawing before moving forward
Guard your paper, This will be a valuable pencil sketching technique for beginners: set a piece of document under me to prevent smudging your drawing whilst you`re working. It seems like apparent , but it can get the downfall of the great piece of do the job ! Healy also prefers in order to mount her paper in a board, attaching that using a layer associated with matte medium. This allows keep things neat, in addition to provides an excellent surface to be able to work.
IMAGE COLLECTIONS : How To Draw A Cute Dog Step By Step