How To Draw A House For Kids
pencil drawings How To Draw A House For Kids
How To Draw A House For Kids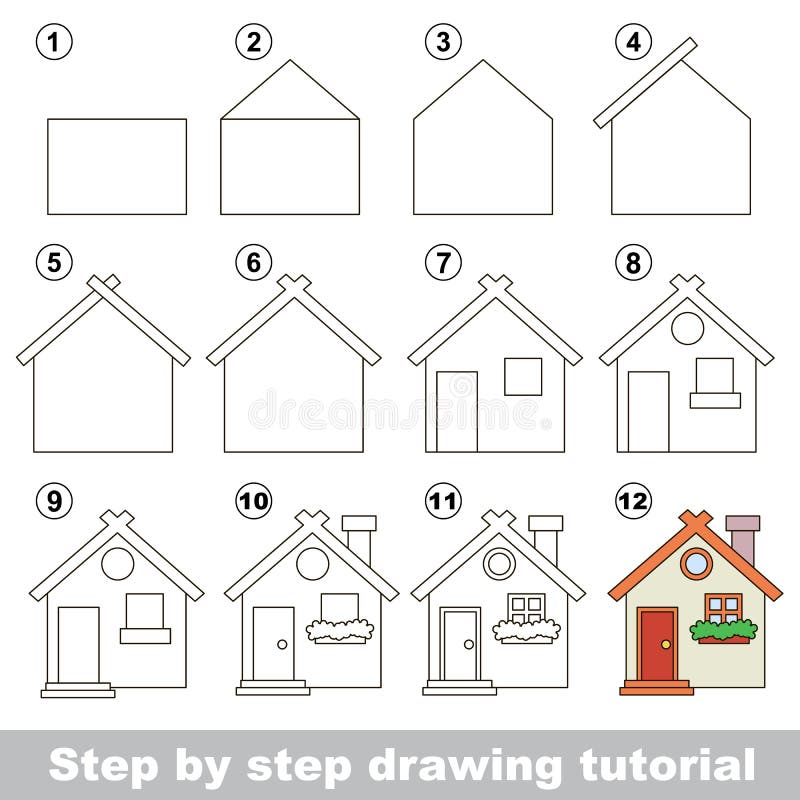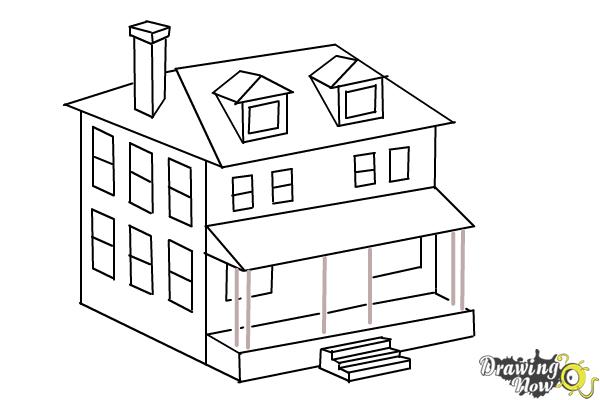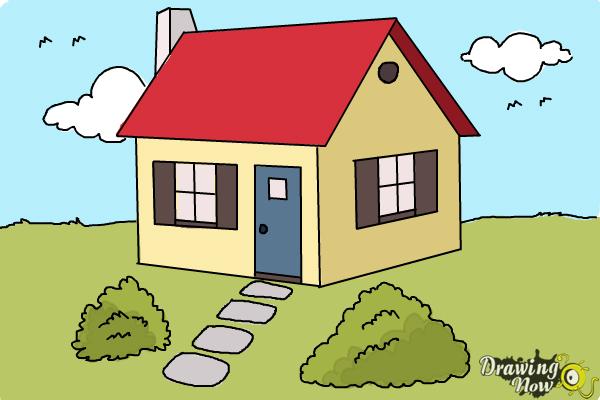 Final stage of drawing a house. Color your drawing as you see fit with colored pencils or markers.
dragons (267)dwarves (7)elves (7)fairies (30)fantasy characters (50)gryphons (20)orcs (4)phoenix (13)trolls (5)unicorns (9)wizards (10)concept art (99)
ben 10 characters (28)cartoon network (417)disney (346)disney princesses (22)nickelodeon (205)other (306)pbs (19)south park characters (26)webkinz (14)
art (34)band logos (64)characters (558)fashion (48)flowers (95)food (132)graffiti (23)movies (293)music (89)skulls (127)sonic characters (74)sports (141)symbols (163)tattoos (231)trees (36)tribal art (135)video games (662)everyday objects (185)
Castle – drawing lessons How to draw a Human full-length How to draw a realistic Cat How to Draw a Birch Tree Drawing a Car Step by step lesson How to draw a Macaw
Uploaded: June 17, 2011Artist: DawnDifficulty: Novice  Steps: 8Updated: June 17, 2011P.O.V: FrontFavourited: 3 times
A house is an architectural construction, so we must first complete a blueprint of the house before adding any aesthetic detail. Using a ruler is a must in this process to maintain symmetry in all aspects of the house: walls, columns, windows, and so on. A house can be designed and built in numerous ways. For example, the roof might be made out of clay tiles and support a brick chimney coming from a fireplace inside, the veranda might have floor-to-ceiling windows, and the front entrance might have double doors. All these elements are introduced after making a rough sketch of your house's foundation, walls, roof, doors, and windows. This lesson should help you to be able to draw a house with ease!
I have this picture that is really old, and when I say old I mean old like from the seventies. It's a picture of my mom when she was only six years old. She is standing there in front of an easel holding a stack of crayons in her hand. On the side of her she is posing to show off her work because she was getting recognition for the house she drew. Just that picture alone gave me the idea to make a tutorial on "how to draw a house for kids", step by step. The house looks very much like the one in the photo, and because my mom drew almost the same house at age six, I thought that the same design would be something that all beginning artists can draw. Just because you can't become a member because of your age, that doesn't mean that you have to suffer. There are tutorials on here for everyone including stuff for the youngest artists. You can even tweak the tutorial by adding some flowers or maybe even coloring in your door red instead of a greenish yellow. I hope you like this lesson, be sure to join me for many more coming to you shortly!
Step 5. Draw out the shape of the actual house and this time as you can see it is just a bog square. Draw in another smaller square for the house window, and then move to step six. You can also choose to draw two smaller windows if you want a house with two windows.
landmasses (48)outer space (30)watermasses (12)famous places (23)structures (34)bridges (3)monuments (8)other (22)
airplanes (13)boats (15)helicopters (3)jets (2)motorcycles (11)sports cars (71)suvs (8)tanks (4)trains (6)trucks (14)
Step 1. The first thing you will draw is the shape of the house's roof. You might want to use a ruler for this tutorial just because you will mainly be drawing straight lines and angles.
Step 3. Draw in the square shape of the window and then make another pitched line to make a trim for the roof.
aliens (33)creatures (9)droids (3)robots (15)space crafts (6)star trek (3)star wars (60)weapons (2)
Blueprint of the house. Begin working on the blueprint of the house by drawing a large rectangle and divide it into two parts with a straight vertical line. The first rectangle, which will be the living room, should be longer than the second one, the hallway. One of the goals of this lesson is to teach you to identify the correct proportions, but if you feel you've got the knack for it now, feel free to design your own layout for a house.
antarctic (14)birds (147)butterflies (12)cartoon animals (110)desert (7)dinosaurs (40)farm (56)fish (41)forest (183)fresh water (8)great plains (21)rainforest (51)reptiles (23)safari (68)salt water (51)snakes (17)domestic (183)insects (46)
Add details to the house. Now "cut" the roof on both sides, slanting it just a little to one side. Very rarely is the roof completely symmetrical, so we can try to give it an interesting shape. Finalize the contours of the windows and the door. Add one more layer of foundation to the bottom of the house. Draw a small rectangle on top of slightly bigger rectangle near the vertical dividing line – this will serve as a funnel. Connect the walls to the roof on the left-hand side of your drawing.
Step 6. Draw in the window glass and then make window trim in the inside. Draw a door and a foot step.
Our artists have made sure that your drawing will be as simple as never before! Offer a drawing application for your kids – and this would be a great activity for them, too! After all, creative activities are essential to children, they help them to develop their creativity, fine motor skills, sense of style. Especially when they learn how to draw such easy drawings, as cute houses or How to draw a Strawberry, How to draw a Rabbit, How to draw a Hedgehog. Let your kids learn to draw their favorite characters with a new lessons for a fun drawing! Draw your favorite animals, cartoon characters easily step by step. Finished pictures can be stored on your mobile device and send to your friends on social networks or email. And, rest assured, they will gain a lot of "likes"! Surprise your friends and followers with your skills, because drawing – it's so cool! Bank of drawing lessons of our site are very diverse. Select any movie hero, cartoon or game character and draw them just now!
anatomy (41)caricatures (12)ears (5)eyes (57)faces (76)famous faces (294)full body images (139)hair (20)hands (14)head (7)mouth (18)nose (6)portraits (243)
Step 8. Here is what your house looks like now that you are all done. Have even more fun coloring in the drawing and then move to something else to draw.
Anyone who stands at the beginning of his artistic activities we offer "How to draw a house" drawing lesson. If You are a modern man and you want to learn a new kind of creative activity? Then pay attention to the lessons of drawing that will teach you to draw all of your favorite cartoon characters and video games so easy and confidence. If you like easy graphically drawings – try to draw tiny House by yourself and offer easy drawing to your children. Just repeat the "Steps" of a house drawing lesson and you draw it perfectly beautiful.
Draw parallel lines on the front of the roof to create an effect of layered wooden planks. Add shutters to the windows. The entrance can be split into two doors with a neat doorstep underneath. In order to make it look like your foundation is made out of brick, draw a bunch of tiny squares inside it. You can use same technique for the chimney. Accent the roof with clay tiles, which might be a tedious task but it is totally worth the effect it gives. It is also b worthwhile to surround your house with a nice landscape with the Trees and grass.
We offer to you the most affordable lessons to drawing. And you can do it at home or at work, on the road or in the exhausting line at the supermarket – now you can draw anywhere. You dont need to engage in art studios and take lessons in drawing enymore, because we will teach you how to draw a nice house perfectly.
Windows of the house. As you can see, following the step-by-step method and using a ruler when drawing a house makes the process more or less smooth and effortless. Your drawing is nearly half completed once you add the foundation and the windows. Draw another horizontal line along the ground for the house's foundation, an essential structural element of any building. Add parallel lines like so to the roof. Then draw two smaller rectangles for windows in the living room.
centaur (4)chimeras (2)dryad (1)faun (1)greek mythology (27)harpy (2)japanese mythology (4)mermaids (15)naga (1)sphinx (1)
Step 2. For the mini roof that covers the second floor window you will need to make a triangular line in the form of an A or angle arch.
Step 7. Okay guys last step. Draw in the bushes and then another step. Like I said in the description, you can add some flowers if you like.
christmas (129)easter (28)halloween (144)st patricks day (10)thanksgiving (19)valentines day (32)
Contours of the roof and the doors. Mark the top of the roof coming from the middle of the left-hand side part of the house. Draw a horizontal line through the entire length of the house starting from the right. This line will separate the roof from the walls of the house. Draw another rectangle, which will be a door, inside the right-hand side part of the house.
frankenstein (10)ghouls n ghosts (14)other (53)vampires (24)werewolves (19)witches (19)zombies (73)
How to Draw House, Kids Draw обновлено: May 16, 2016 автором: Webmaster
explosive devices (4)firearms (32)knives and spears (13)missiles (3)other (14)projectile (6)swords (26)
animals (65)bleach characters (61)characters (670)chibis (556)coloring (13)dragon ball z characters (59)ears (3)eyes (66)female body (47)hair (24)hands (7)head (60)male body (15)mouth (5)naruto characters (101)people (139)pokemon characters (427)
animals for kids (239)cars for kids (12)cartoons for kids (32)dinosaurs for kids (15)dragons for kids (8)fantasy for kids (39)flowers for kids (23)people for kids (52)
Step 4. Now the glass for a window can be many shapes and styles. For me I wanted to make a round window shape and then draw in a pie for the window design.
coloring (44)line art (10)realistic (91)shading (8)sketching (50)submiting tutorials (16)