How To Draw Tree Leaves
pencil drawings How To Draw Tree Leaves
How To Draw Tree Leaves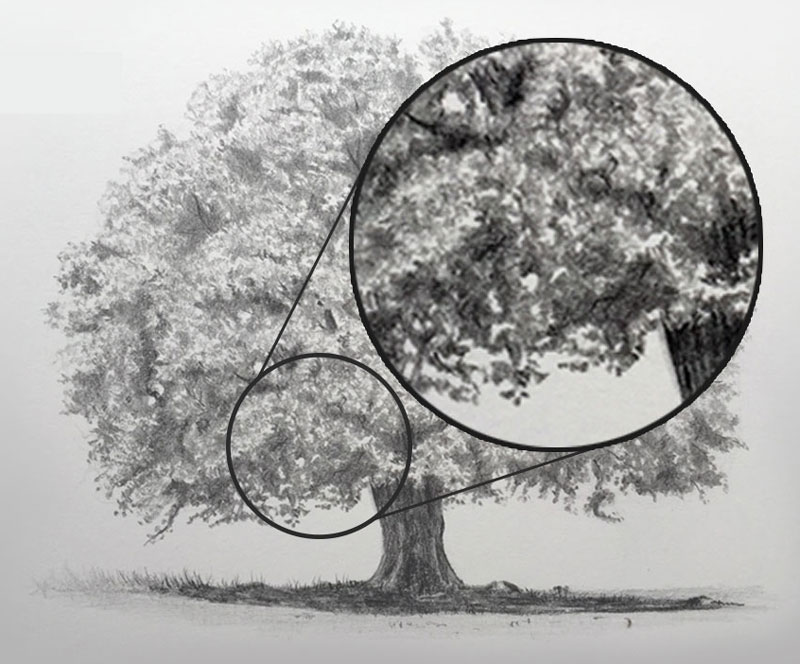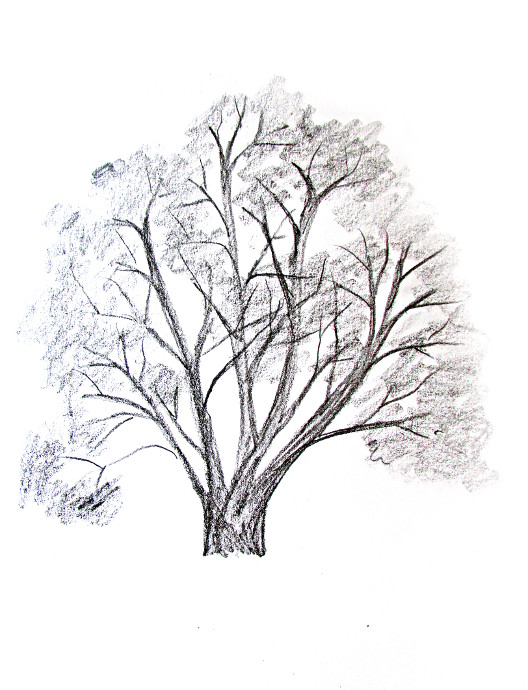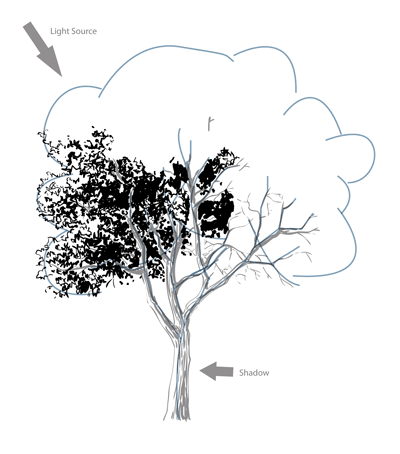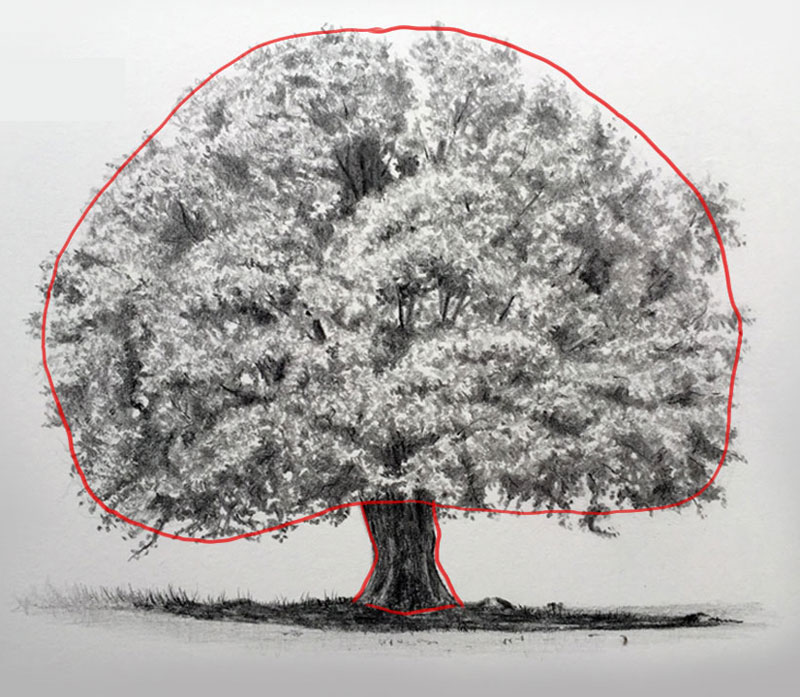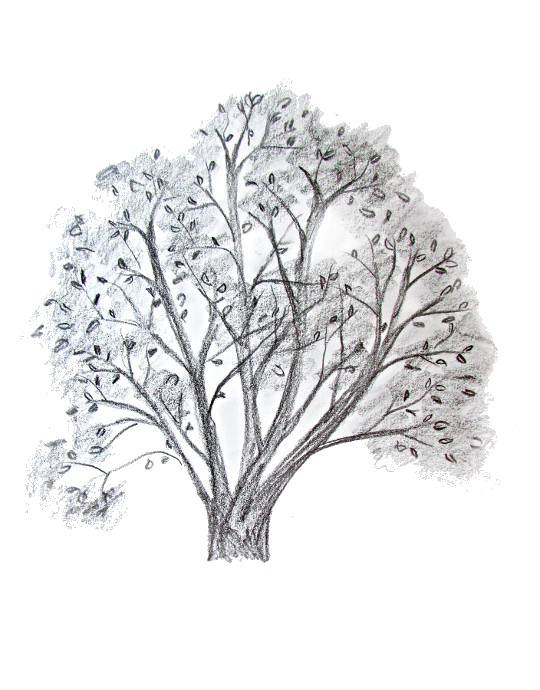 I have never tried negative space watercolor painting technique before. I have seen some amazing paintings with this technique out …Read More
This website uses cookies to improve your experience. If you wish, you can opt-out. Sounds Good Read More
I extend the trunk shape up.  As before, it's thicker towards the bottom, and comes to a point on top.
When drawing the smaller branches, don't try too hard. Just let your hand take the lead and they will turn out to be more bent and crooked. Everyone has their own view and ideas, so every tree will look different.
If you want to paint the tree you might want to add more space between the branches than if you were to just draw and color the tree. Draw the tree slowly. Shade the leaves and sections of the tree. A good thing to try for leaves is to dip a piece of sponge into some undiluted paint and just dab it gently onto your tree.
Try to be focused and have patience. Using a 0.5 mm pen helps when drawing branches and leaves. Free hand the leaves then go back and add detail. Use a pencil in case you make mistakes. Picture the finished product in your mind as you draw the tree.
Don't use any sort of pen because if you mess up then you will have to start over, as you can't erase pen. Add to some rough lines to the trunk and branches to show texture. On your first sketch, don't use pen, or anything that cannot be erased.
Draw the leaves with patience. See that leaves don't overlap each other.
Use a coloured pencil to lightly shade the area of shade. The shade will usually appear where the sun/light can not reach.
NJ Travels With Kids: Browse by Categories!!!NJ Travels With Kids: Browse by Categories!!! Select Category Art Updates Travels With Kids    Amusement Parks    Arcades    Art Studio    Beach Fun    Beautiful Gardens    Camping Fun    Delaware Water Gap    Farms and Pick Your Own    Free Places To Visit    Good Food    Hiking Trails    Historic Landmarks    Indoor Activities and Playgrounds    Museums    National Parks    Nature and Science Centers    Parks and Playgrounds    Quaint Towns    Rivers and Lakes    Roller Rinks    State Parks    Theaters    Water Parks    Winter Sports    Zoos and Animals What We Are Learning    Good Books    Music Advertisements Our Favorite Products The ads below are brought to you by Project Wonderful.
Most Loved
Shade the trunk a bit, and then start shading the leaves that are towards the back.
Keep adding the branches with needles to about half way, and then sketch a few empty branches.  Thicken the trunk.  Add a shadow to the tree.
I had a great time doing an art lesson on Georges Seurat.  After all, who wouldn't have fun with Pointillism.  It is …Read More
Draw the smaller twigs. Remember that smaller twigs branch off of larger ones and even smaller twigs branch off those.
Even more smaller branches splitting off from the bigger ones.  I also pick an spot where the sunshine is coming from.  I also shade the trunk a bit, using long straight lines.
Define the leaf areas in the foreground, and add some branches coming up behind them, also a few roots.
For me drawing trees is all about branches and the crown, and fining a balance that you are happy with.  There are many amazing artists, books and tutorials out there all about drawing trees.  For example, THIS BOOK is very good, and my kids and I enjoyed it in the past.
Alright, here is tree number one.  I call this one "Tree # 1".  🙂
Draw as much bark detail as possible. this is where detail matters Add shadows and lines to make your work more realistic.
I add a small triangular shape on top with straight lines all moving to the top.
Now each one of the main branches gets a few branches of their own, but smaller and added a squiggle on the bottom to indicate a bit of grass.
'How to draw a tree?' is a question that I get asked often, online an offline, so I decided to make …Read More
Alright, now leaves are squiggly lines drawn with the side of my pencil.  Some of them are flying off, so more small squiggles.  I also add a horizon line: where the water meets the sky and some grass on the hill.
Thanks to all authors for creating a page that has been read 820,721 times.
Drawing a detailed tree is not all that hard. The first thing you will need is a little time, peace and quiet, good concentration, and a great sense of nature.
I start with a line and the general shape that I would like the crown to be.
Use brighter colours. Also make the background blur and create a 3D sensation.
With the side of my pencil I added some shadow to where the leaves are going to be.
Whichever you prefer! If you'd like your tree to look shaded in certain spots, I would use colored pencils.
'How to draw a tree?' is a question that I get asked often, online an offline, so I decided to make this tutorial here.  I made 7 drawings of various trees with step by step instructions.  I hope you all find it helpful!
…but no, I had to go and add squiggly lines to indicate leaves.
Too often kids (and adults) draw trees which ends in a stump, and has a semi round crown on top of it.  Here I start by doing that, and then work on it some more.
You may print out a picture from the Internet and try to trace the branches.
***Please know: this website contains affiliate links and advertisements. You should also know that we are participants in the Amazon Associates Program: www.HappyFamilyArt.com is a participant in the Amazon Services LLC Associates Program, an affiliate advertising program designed to provide a means for sites to earn advertising fees by advertising and linking to Amazon.com. Every so once in a while I recommend the products and books that I have enjoyed. The links to these products will take you to www.amazon.com. While you are free to use the instructions for the art and crafts for your personal use only anytime, please remember that all the text and images are copyright to HappyFamilyArt, and the artists respectively. Please do not copy or reproduce without written permission. Contact us with any questions you might have and we will be happy to answer them!
Awesome picture! Tell us more about it? Click here to share your story.
Shade the trunk with straight lines. Decide on where the sun will be and add shadows to the areas facing away from the sun.
Free Or Inexpensive Places For Family Fun In And Around New Jersey
I added some clouds, shaded the water, drew a sand line, and some tall grass on the hill.  The tall grass is also leaning in the winds direction.  I also darkened some of the leaves a bit.
Putting my pencil sideways, I shade in the area in the crown where the leaves are.  I am going in a sort of irregular pattern of peaks and troughs.
What happens when it doesn't look like the one that was drawn here?
New Hope, PA and Lambertville, NJ We go there so often, that I just couldn't put a date on it …Read More
Envato Market has a range of items for sale to help get you started.
This tree is more of a bush.  All the branches are coming out from the bottom, and growing to about the same size.  I start with five main branches.
Would it be better to use colored pencils or acrylic paint to add color to the tree?
I keep working on the crown, now by adding some layers, and outlines. I also erased the line that was giving me the initial crown shape idea.  When shading, keep in mind where the sun is coming from: areas facing the sun should be lighter then the areas facing away from it.
Make the trunk thicker.  It is thick towards the bottom and the roots, and narrows closer to a point toward the top.
Have some of them be different shades of the green or brown or whatever color you've chosen, and make them not all the same shape. You could also add some falling leaves, if the season is right.
The same thing with the branches. They are thicker toward the base and narrower towards the tip.  Easy-peasy.
Add some main branches.  Because the wind is blowing, many of the branches are leaning to the right.
Drawing well takes practice and keen observational skills. Don't get discouraged, just keep working on it.
And keep working on the crown.  Just doodling away until you feel your tree crown is complete.
I added more lines to create thicker trunk branches, added more branches going out to the 'umbrellas' and added a few empty branches as well.
If you're feeling adventurous, you could even add shadows that the branches are casting on the rest of the tree.  Actually, at this point, I really liked what this tree was coming out like, and maybe I should have kept it as a winter tree…
Well, that depends on the look you prefer the tree to have. If you want the tree to look young, try to give the trunk a light brown; for an older tree, color it deep brown. For the leaves, if it is in spring, a light green; in summer, dark green, in autumn, give it a golden yellow or light orange.
Also take note of the shade.
Search for: Search Like And Share! Subscribe To Our Newsletter:
There you go! My trees are all done.  Now go and practice some trees of your own! Play around, and draw some amazing trees!
I kept working on the leaves, occasionally using my eraser to add highlights, until I was somewhat happy with it.
Sign your work. It could be worth a million dollars someday.
In this lesson I have two different ways to paint cherry blossoms with watercolor.  The first one is easier and …Read More
My youngest had a birthday party recently. His favorite thing for every birthday is having a Piñata that he can …Read More
I decided that the tree shouldn't just hang in the air, so I gave it more grass, and shaded in the background.
Make the leaves or flowers. Drawing them individually is nearly impossible and boring, but be sure to make each one unique. Nothing in nature is exactly like anything else of the same kind.
I added some more detailed leaves, but they could also be berries, or flowers, or what ever else you would like.
If you want roots on the tree draw them in the same kind of style the rest of the tree is. Make them curved if you want. There is something about drawing roots on this website.
As I was working on my next coloring book, I made a page that I absolutely fell in love with …Read More
Español: dibujar un árbol detalladamente, Deutsch: Einen detaillierten Baum malen, Português: Desenhar uma Árvore Detalhadamente, Français: dessiner un arbre détaillé, Italiano: Disegnare Dettagliatamente un Albero, Nederlands: Een gedetailleerde boom tekenen, Русский: нарисовать детализированное дерево, 中文: 画一棵细节丰富的树, Bahasa Indonesia: Menggambar Pohon secara Detail
Every year I love having a bucket list: a list of places I want to visit with the kids before …Read More
I erased the stump line and gave the tree a few branches, but instead of doing the way I did the above trees, I ended them half way and will cover them up with leaves.
Draw light when first starting.Then outline the drawing darker. Do not draw the foliage until the very end.
Draw the trunk of the tree and draw your way up. Details don't matter for now, just draw the general shape of the tree.
Drop leaves and take a photo of them falling. Then print it and copy it in your drawing. Use natural colors and shapes.
Here is more branches.  Here is the thing about the branches.  The thick, main branches are stronger, so they will not be as affected by the wind, but the smaller branches will all point in the direction of the wind.
I doodle all the time.  For me it is very meditative and relaxing.  As my doodles accumulate, I realized that …Read More
Then I went all out and decided I am going to use my eraser and add some sun rays coming out of the corner.
Observe and try to get it into the paper. Start with one of the main branches and the main twigs.Make sure that you draw the tree big.
This tutorial is my take on drawing trees.  For these drawings I used a regular sketching pencil, though the same principal applies to other mediums as well.  I also adjusted all the sketches in Gimp 2 so that they are more visible, so there will be a slight variation between the photos.
A bit of grass, and some textures on the 'umbrellas', also make the 'umbrella' textures thicker on the bottom and thinner on top.
I added more details to the trunk, made more squiggly branches, and added some shading to the 'umbrella' portions.
Or 'How To Make Leather Roses' I did it again.  I bought supplies that I really had no idea of …Read More
This tree was especially fun to draw.  I started to draw it by drawing the ovals for the leaf parts.  I decided on four, but if you want more, that would be quite awesome too! Then I added some squiggly lines coming down to the same area for the tree trunk.
This was the first tree I actually drew, and I wasn't too thrilled about it, but here it is anyway.  I start as before, a line for the trunk, and a circular shape for the crown.
Even further, I got eraser happy and made more rays coming out through the tree and on the ground below it.  Tree # 1 is all done!!!
Color pencils have got to be one of my most favorite mediums. I love how much control you have with …Read More
Include your email address to get a message when this question is answered.
As before, I drew the line and the crown, but this tree is being bent by the wind, so the tree will be bending down a bit.
This particular project took me a while to complete.  At first I just started drawing sunflowers and photographing every step, as …Read More
One more little thing I noticed is that I needed to give myself extra space.  I would usually run out of space for the tree much quicker then I thought I would.
Make the branches thicker, and add some more small branches.
Even more small branches, making the bush thicker and thicker.
Pencil (lighter tones for detail and heavier tones for shading)